Short walk to Sant Adjutori Chapel and Iberian kiln
Sant Adjutori Chapel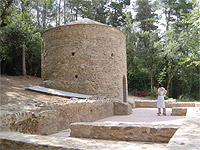 Situated in the Collserola hills, this chapel was the object of a project to complete its restoration. The chapel has a round floor with a semi-conical roof and one disproportionately large door. It's stonework brings us to believe that it is romanic (XII century) with a pre-romanic base ( X century) and modern alterations made between the XVI and XVII centuries. These alterations imply that the chapel went from being the alter area to the central part of a new church. The church was abandoned with the expropriation of the Church's assets, until this time it was a subsidiary of the Sant Cugat Monastery, from then onwards it's been abandoned.
The interior and exterior of the chapel is currently reformed, along with its surroundings, but the inside is closed to the public. A few meters away there is a kiln which has the same name.
Sant Adjutori Kiln, iberian or roman?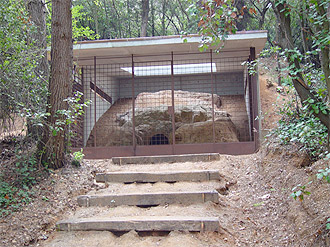 Although it has always been catalogued as iberian, the Sant Adjutori Kiln is roman according to the Generalitat de Catalunya  Archaeological Service  map. This is probably due to the finding of the remains of iberian materials near the site. This leads us to believe there may have been another kiln, this one of iberian origins, or possibly an iberian settlement nearby. Nowadays the experts can only indicate the possible existence of a cemetery close to la Torre Negra (Black Tower), a country estate from the Mddle Ages that joins the nature area of Collserola Park with the district borders of St. Cugat de Vallés.
Duration
: 30 minutes slow walking (one way)
Distance
: 500 meters
Difficulty
: easy. Wide track.
See map